Bits of Books - Books by Title
Building Community:


New Apartment Architecture



by Michael Webb

More books on Art

What better use could there be for an architect's skills than the design of a block of flats? To make a place where lives will be lived, loves lost and found, families raised, friendships made, plotlines developed for unwritten novels and screenplays, all within limitations of space that mean it actually requires some competence to stack up the units in better rather than worse ways - this surely is more worthwhile than to turn out another iconic museum or singular private house.

It's a particularly pressing question in those parts of Britain where the urgent need for homes encounters the refusal to contemplate building, as previous generations would have done, on any piece of land designated 'green'. Instead, more people have to inhabit space formerly occupied by fewer people, which could and should be a good thing, with better use of resources, opportunities for sociability and so on, but it takes thought and care to do it well. It used to be said that Britain is not a nation of flat-dwellers: well, now we are, whether we like it or not, and we had better make the best of it.

This question is not unique to Britain, but in other countries where the desirability of metropolitan living has been rising for 30 or more years. It has prompted Michael Webb, a British-born architectural writer long resident in Los Angeles, to gather examples of architect-designed apartment blocks into a book, Building Community (Thames & Hudson). Webb is himself an enthusiastic dweller of Strathmore Apartments, a subtle 1930s enclave by the great modernist Richard Neutra, a place that - although derided as 'moon architecture' and 'hospital architecture' - was occasionally rented by Hollywood nobility and, before they built a famous house for themselves, was the home of the designers Charles and Ray Eames.

Webb wants to spread the joy he experiences himself and so shows outbreaks of artistry in Singapore, California, Australia, Brazil, Denmark, Slovenia, Italy and more, designed by Zaha Hadid, Frank Gehry, Norman Foster, David Adjaye and others lower down on the ladder of fame. It shows plain boxes and cascades of terraces, wavy and bulbous curves, homes projected into space or smothered in greenery. An introduction gives some antecedents: Le Corbusier's Unite d'Habitation in Marseille; Berthold Lubetkin's postwar council housing for the then London borough of Finsbury; the 'Horseshoe estate' - beautiful, humane and indeed horseshoe-shaped - of 1920s Berlin.

Themes emerge. You can plainly see how the economic power of China and south-east Asia is changing the idea of the apartment building, with an attitude to scale unconstrained by European diffidence or sentiments about domesticity. It generates the Interlace in Singapore, in which 1,040 flats are put into multistorey blocks stacked on top of one another like children's building blocks, or Absolute World, in the Toronto satellite of Mississauga, where the Beijing-born Ma Yansong designed a pair of swelling-tapering-swelling 50-or-more-storey vases - the first of them nicknamed Marilyn Monroe - with seeming indifference to anything but their own shape.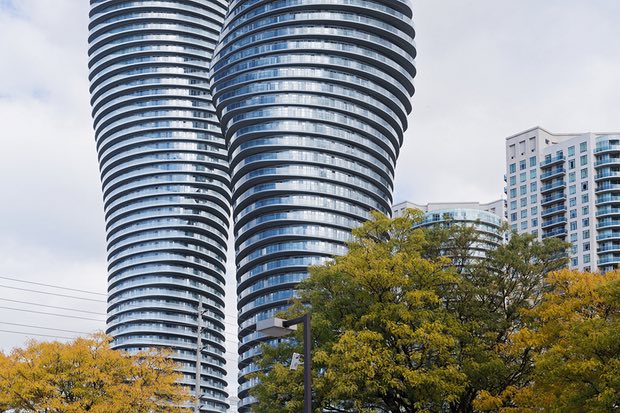 It's the Angeleno architects who are more likely to design crafted little blocks, with careful courtyards and balconies that might foster the community of which the title speaks, or Rob Wellington Quigley, who, with his contractor wife Kathleen Hallahan, built in San Diego the book's cover star. It is not really an apartment block, being its creators' private home, plus Quigley's studio, plus another apartment and some further office space to help with the financing, but the complex little brief, plus the couple's control over their own project, and the balmy southern California climate, allow an intriguingly layered building arranged around a sociable central courtyard that offers glimpses of its inner life to the street outside.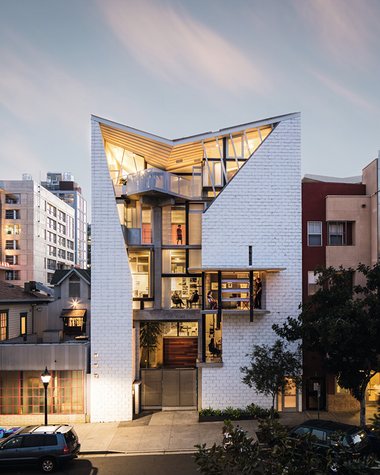 Webb mines a rich seam since, for both good and questionable reasons, architects love playing around with blocks of flats. In the last century, those featured in his introduction exploited the feelings of destiny and mastery that can go with the job, offering their works as visions of future living. Their motivations combined idealism with self-promotion, a balance of ideology to marketing that shifted towards the latter as values changed over time. You still hear talk of 'communities of the future' but it comes now in the sales brochure rather than the architects' manifesto.
At the same time their ambitions stub their toes against the deep conservative stubbornness of the basic unit of accommodation. Give or take adjustments for budget and fashion, a flat is a flat is a flat. The requirements of human habitation don't change much, nor does the rough amount of space needed for a bed or a shower. There's a small range of floor-to-ceiling heights between the headbangingly low and the absurdly high. Furniture usually fits better in rooms with right-angled plans and vertical walls. Demands can get more stringent when developers are looking to maximise their efficiencies, such that an architectural flourish or delightful intermediate space between public and private comes at the expense of valuable floorspace.
The recalcitrance of the raw material means that the radicalism of the architecture can often be cosmetic - that is, not really radical at all - and that shape-shifting exteriors tend to collide painfully with rectangular floor plans and rectangular doors and windows. The smartest of the high-concept designs is the Interlace, by OMA and Ole Scheeren, where the audacity of chucking blocks into the air is combined with the straightforward planning and detail of the individual elements and a strong idea about the gardens and terraces that the block-chucking would create.
Often the best opportunities for architectural intelligence and adventure come in the spaces between homes, the landscaping and the wrapping, as in the glorious
25 Verde
, in an ex-industrial zone of Turin, by Luciano Pia. Here, an apartment building that is deep-down simple and oblong is engulfed by a dense outer forest of greenery and rusty steel. The idea of putting trees in the air is a recurring and usually unconvincing one in architect-designed housing - the plants don't look happy - but here it seems to work.
Mostly, the things that make the difference between an objectionable or oppressive flat and an uplifting one are small and subtle - proportion, light, orientation, a well-made dado in the entrance hall, the particular way in which a balcony allows both privacy and communication with neighbours, the properties of things you touch, such as door handles and handrails. A covetable place in Webb's book is V_Itaim, a 13-storey tower in Sao Paulo by Studio MK27, a work of rough concrete and refined timber whose perforated shutters both filter the light to the interior and animate the exterior.
A striking feature of Webb's book is an almost complete lack of examples, except for historic ones in the introduction, from Britain. Perhaps this is because we are unwilling flat-dwellers; perhaps because housing is even more developer-driven here than in other market economies. But it's not all bleak. Last week, it was announced that Ely Court in north-west London, by Alison Brooks Architects, featured in these pages last year, was on the shortlist of five for the Mies van der Rohe award for the best new building in (ahem) the European Union. It's from the quiet but considered end of the spectrum, though by no means timid. Perhaps it's a sign that the British can love flats after all.
Books by Title
Books by Author
Books by Topic
Bits of Books To Impress