Bits of Books - Books by Title
The Life and Times of Malcolm McLaren: The Biography


by Paul Gorman



More books on Music

(London Times)

It goes hard against the sexist, ageist grain of rock'n'roll myth-making, but it's possible that one of 20th-century pop culture's most influential figures could be Malcolm McLaren's grandmother. On his first day at school in north London, the young McLaren disappeared beneath the desk so he could look at the girls' underwear. Rose Corré Isaacs, his grandmother, was summoned to speak to the teacher; unhealthily fond of her second grandson, viewing his red curls as evidence of the family's descent from Portuguese Sephardic aristocracy, she was amused rather than outraged. "Boys will be boys," she cackled.

Twenty-five years later, McLaren had grown up — after a fashion — to be the manager of the Sex Pistols, the underfed, green-toothed punk urchins who famously generated nationwide moral panic when they swore at Bill Grundy on early evening TV ("what a f****** rotter!"). "Must we fling this filth at our pop kids?" asked the Sunday People in the pearl-clutching aftermath. "The Filth and the Fury!" trembled the Daily Mirror. "Boys will be boys," shrugged McLaren.

According to Paul Gorman's voluminous account of McLaren's life and work, Isaacs's curious north London inflections influenced her grandson's sneering speech — and by osmosis, those of the Sex Pistols singer, John Lydon.

She encouraged Vivienne Westwood's future design collaborator in his flamboyant love of clothes, hiding packages of them in garden bushes for him (his mother, Emily, refused to fund his addiction). More significantly, she warped his moral codes from childhood, telling him: "To be bad is good, because to be good is simply boring. And who wants to be boring?"

This excellent biography is testament to how fiercely he internalised Rose's advice. Excepting lulls when McLaren tried to crack Hollywood in the 1980s — and even those involved a film called Heavy Metal Surf Nazis — there's little that's boring here.

Born on January 22, 1946, into Stoke Newington'' Jewish community, McLaren was marked by domestic anarchy from the start. His parents married when his mother persuaded his Scottish father, Peter, that she was pregnant, despite the fact they hadn't had sex. Emily's handbag of cash was considered evidence that she was 'on the game'; Peter left the family when his sons were young, paid off by his domineering mother-in-law. Malcolm was swept into his grandmother's unboundaried embrace. Into his late teens she would insist that they share a bed; she once threaded ribbons through his pubic hair to preserve his chastity, reasoning he would be too embarrassed to strip off.

While the well-told story of the Sex Pistols' paradigm-wrecking 29-month riot is the book's centre, Gorman is alert to the narrative potential of other aspects of McLaren's life, moving from his childhood's psychosexual horrors to his mischievous rampage through London's fertile 1960s and 1970s art-school scene — a rich topography of pre- and post-hippie bohemia. Originally a trainee taster at the Queen's wine merchant, McLaren deliberately triggered his dismissal by smoking Gitanes in the tasting room; he subsequently ricocheted around institutions including Goldsmiths College, where he claimed to have burnt down the library to cover his book-stealing tracks.

Gorman also catches other secret worlds that McLaren inhabited. From his early days on Stamford Hill's Jewish mod scene, frequented by the gangster David Litvinoff and the young Marc Bolan, McLaren was obsessed with clothes, a passion that often took him to Soho, where he visited cult outfitters such as Sportique and Vince's. He was also in thrall to the teddy boys' violent fashions, and his 1950s memorabilia collection would form the basis of his first bona fide retail venture, Let It Rock at 430 King's Road.

Apart from meeting Vivienne Westwood — then the married mother of a young son — little shaped McLaren's life like this shop, the stage for all his schemes. Let It Rock drew media attention by selling retro drapes and brothel-creepers — but McLaren changed its name and remit after Lionel Blair visited seeking costumes for a Saturday-evening TV dance routine. Next it became Sex, inspired by McLaren's wild times in New York hanging out with his first managerial charges, New York Dolls. A transgressive haven of rubber, leather and bondagewear, it became the Sex Pistols' birthplace; the newsreader Reginald Bosanquet was allegedly a client.

Gorman has written extensively about fashion and he could clearly spend hours running the cire and nylon of Westwood and McLaren's outrageous creations through his fingers. Yet he also underlines how their disruptive power is vital to McLaren's story. The infamous 'Cowboys' T-shirt, for example, based on a 'male physique study', triggered an obscenity charge; in an Ortonesque twist, the court case involved measuring the tiny distance between the male figures' penises to see if they touched.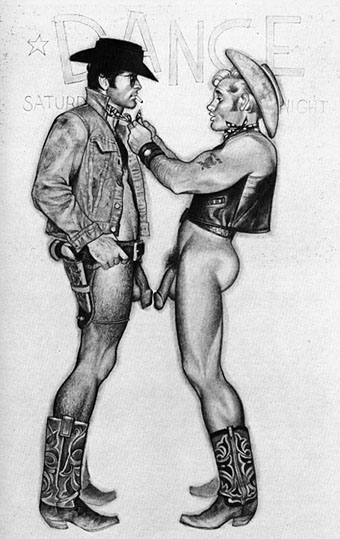 Fashion was a way of excluding the old guard, Sex staff supposedly slamming the door in Mick Jagger's face. ("No one ever slams the door on me in the King's Road," the Rolling Stones lead singer later retorted. "I'm the only one who's got any money to spend on their crappy clothes.")
Although Gorman explores McLaren's provocateur skills, he calls out his unforgiveable behaviour. That he ran the Sex Pistols into the ground is clear, even if Gorman suggests that he fought harder to save the doomed bassist and vocalist Sid Vicious than many believe. His ability to spot an idea at 100 paces — he was an early hip-hop adopter — is no absolution for awful line-crossings: the "Cambridge Rapist" T-shirt he and Westwood made, for example, or the distastefully named Chicken magazine ("a term used in American paedophile circles for their prey"), a putative promotion for Bow Wow Wow, his post-Pistols band fronted by 14-year-old Annabella Lwin.
McLaren died in 2010 after suffering from mesothelioma, the cancer commonly caused by asbestos exposure. It was, Gorman writes, probably a result of holes he smashed in the ceiling of Sex more than 30 years earlier as he transformed it into its next incarnation, Seditionaries — the act of destruction that finally caught up with him. With this book, Gorman convincingly moves away from the ossified image of McLaren as a great rock'n'roll swindler, a morally bankrupt punk Mephistopheles, and closer towards his art-school roots, his love of ideas. Tiresome, unpleasant, even cruel — he was, this book underlines, never boring. His grandmother would be proud.
Books by Title
Books by Author
Books by Topic
Bits of Books To Impress